The difference between finding an opportunity and creating an opportunity is DOMAINER. A domainer can create opportunity from a vacuum and can fill it with money. Every domainer research domain names in different ways but the common factor is predicting the future. Here are some of the Domain name research ideas collected from domaining practitioners, which you can try in 2019.
Disclaimer: We are only sharing some of the practices following by domainers, our.in strictly opposes the bad faith domain registrations.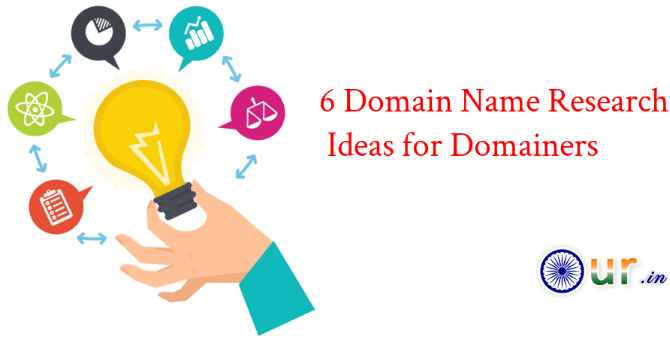 6 Domain Name Research ideas for Domainers
1.Startups
Startup companies are the best way to start domain name research in the fresh 2019. Many startups usually don't register their companies domain name, they want to register later. Most of the domainers using this opportunity to register the domain names and waits for the right time to sell it.




Following regular news and reading articles on startups is one of the best ways to know about startups.
2.Government Policies
Government Policies is from both the central and state government policies, the policies not only useful for public and vendors. Government policies are useful for domainers to register a unique domain name which is related to government policy.
Example: If the central government announced a scheme called abcxyz you can register abcxyz.in or abcxyz.co.in related domain names.
3.Future Technologies
For beginners to experts in Domaining future technologies are the cash tree jackpots. A little research on upcoming technologies and advancements in the existing technologies is the best way to create a new domain name and earn big money.




4.Local Business
Many local businesses in India don't have domain names, some of the businesses like restaurants, saloons, parlors, supermarkets, and bakeries. Usually, some of the domainers using this strategy to register those domain names and contact the right person to make some big money.
5.Celebrity Oops Moments
Nowadays celebrities creating some new words out of their minds. Recently, one of the Tollywood actors named Mohan Babu trolled for the word "Fasak", which became a developed website Fasak.in overnight. Trolled names are easily remembered by the public and can be brandable in a unique way.
6.YouTube & Instagram
Some of the top channels on YouTube and pages on Instagram and Facebook but don't use websites, those names are familiar in peoples mind. Registering domain names related to those famous Vlogs and Instagram pages can give a right fortune to the Domainers.




Thanks for reading the article, for more interesting articles please visit our site regularly and don't forget to subscribe to our blog