Today late afternoon when I was scrolling through the Newsfeed on Facebook, I saw a Sponsored Ad of the National Internet Exchange of India. It's for the promotion of the .in domain extension and encourages us to choose and book our unique .in domain. The slogan/tagline for the promotion is: ATMANIRBHAR BANO .IN CHUNO which when translated into English means: Be Self-Reliant, Choose .IN
The .IN domain extension is India's Country Code Top Level domain (ccTLD). The domain is available in 22 Indian Languages. The .IN domain name is available for anyone – companies, individuals and organizations in India and abroad.
About NIXI, it is a not-for-profit Organization established under Section 8 of the Companies Act 2013, and was registered on 19th June, 2003. The INRegistry, created by NIXI, functions as an autonomous body for maintaining the .IN ccTLD.
For detailed information about NIXI and INRegistry and their Objectives and Functions, the following websites can be visited:
NIXI: https://nixi.in/en/
INRegistry: https://www.registry.in/
Another website which should also be visited is of the Indian Registry for Internet Names and Numbers (IRINN). IRINN is a Division functioning under NIXI and 'provides allocation and registration services of IP addresses and AS numbers, and contributes to the society by providing Internet-related information'. Their website is: https://www.irinn.in/
GetYourOwn.in is a search website of NIXI: https://www.getyourown.in/
Anyone eligible who are interested in registering a .in domain name can search for the availability of the required domain, whether it is available or not. A feature of the Search Results Page is that it also provides a comprehensive list of .IN Accredited Registrars along with updated Selling Price of the .in domain extension by them, as well as contact information viz. email address and phone number of the accredited registrars.
Placed below are two screenshots, the first is of the Sponsored Ad, seen today on Facebook, of NIXI, and the next is of the Search Results page of GetYourOwn.in wherein it shows information of Accredited Registrars as mentioned in the above para.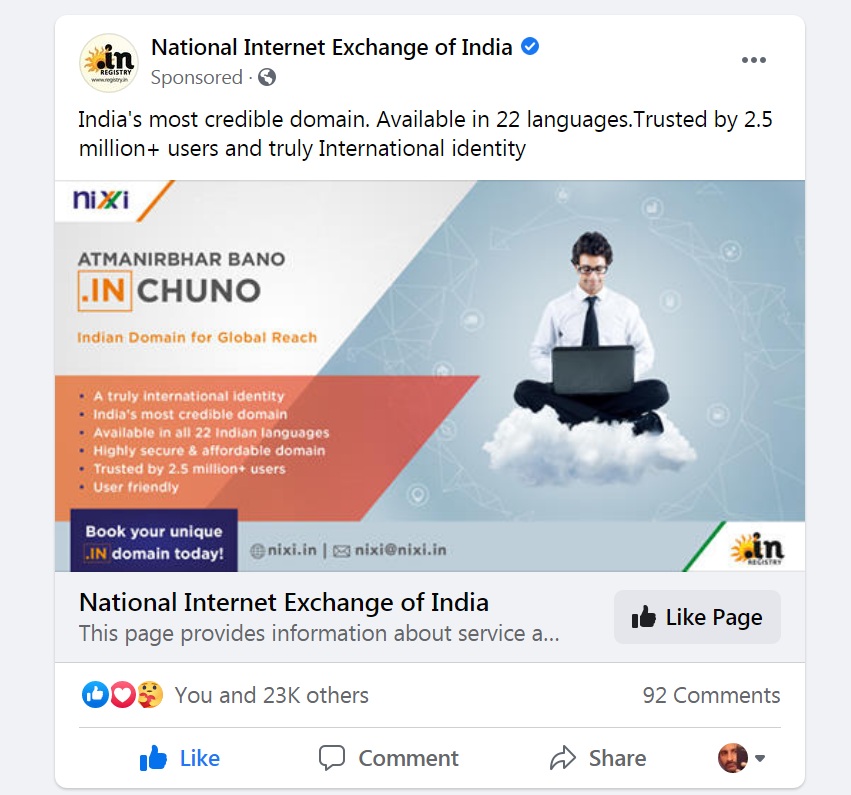 References: NIXI, INRegistry, IRINN
Neeraj Paul
New Delhi, India
Mobile: +91 9971 267 248