In this article, we are showcasing the top 10 airports in India and their domain names. "Airports Authority of India owns a domain name "aai.aero" and similarly they own "airportsindia.org.in", Chairman of Airports Authority of India is Dr.Guruprasad Mohapatra.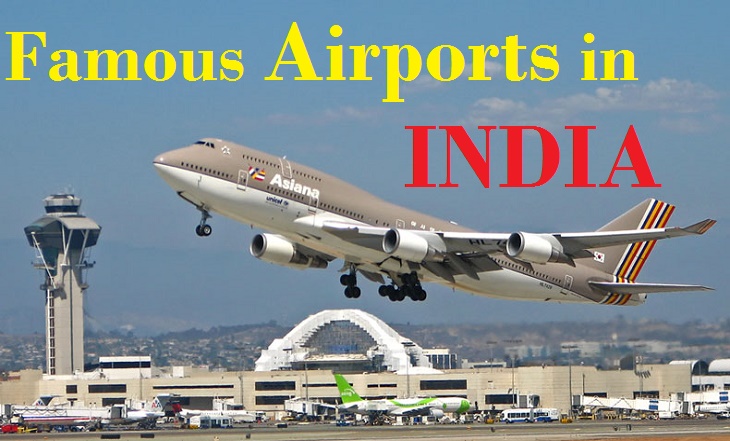 1.Indira Gandhi International Airport, Delhi:
It is the very busiest airport in India, New Delhi Airport was leased to a private operator in 2006 and has gone through a major upgrade. The construction of Terminal 3, which opened in 2010, has vastly changed the airport's functionality by bringing international and domestic flights (except for low-cost carriers) together under the one roof. The terminal has doubled the airport's capacity. It now handles more than 55 million passengers a year.
Domain Name: newdelhiairport.in
2.Chhatrapati Shivaji International Airport, Mumbai:
Chhatrapati Shivaji International Airport is known for its various civilities and transport offices which interface it to the primary city. Mumbai Airport has likewise been perceived with the "Best Airport in India and Central Asia" grant by Skytrax 2016 World Airport Awards.
Domain Name: csia.in
3. Kempegowda International Airport, Bangalore:
Bengaluru's Kempegowda International Airport (KIA) is all set to be become country's first Aadhaar-enabled airport by 2018.After a two-month pilot project in February, Bangalore International Airport Limited (BIAL) has decided to make KIA fully compliant with Aadhaaar-enabled entry and biometric boarding system.
Domain Name: bangaloreairport.com
4. Chennai International Airport, Chennai:
Chennai International Airport though secures the fourth position in overall country; it is the busiest airports in the south India. It was the first ever airport in the country to have international as well as domestic terminals situated next to one other. The airport facilitates as the regional headquarters of the Airports Authority of India for South India part including the states of Karnataka, Tamil Nadu, Telangana, Andhra Pradesh, and Kerala as well as the union territories of Lakshadweep and Puducherry.
Domain Name: chennaiairport.com
5. Netaji Subhas Chandra Bose International Airport, Kolkata:
This international airport situated in Kolkata secures the fifth position in this list of the topmost busiest international airport of India. This airport was previously recognized as Dum Dum Airport earlier it was renamed. It is spread over a vast area of 2,460 acres (1,000 ha) and is the greatest hub for air traffic in the eastern part of India.
Domain Name: calcuttaairport.com
6. Rajiv Gandhi International Airport, Hyderabad:
Hyderabad International Airport is also recognized as GMR Rajiv Gandhi International Airport, situated at Shamshabad which is 22 km far from Hyderabad. In the entire region of South India,  It is being handled by GMR Hyderabad International Airport Ltd. (briefly as GHIAL) and it is the centre for many prevalent airline companies namely Lufthansa Cargo, SpiceJet, and Blue Dart Aviation.
Domain Name: hyderabad.aero
7. Cochin International Airport, Kochi:
The airport from Kochi, identified as the Cochin International Airport secures the seventh position as the topmost busiest airport in the country. This airport is also regarded as the one that has registered more international travellers in comparison to the domestic ones. This Cochin Airport is situated at an elevation of just 9 meters above sea level.
Domain Name: cial.aero
8. Sardar Vallabhbhai Patel International Airport, Ahmedabad:
Ahmedabad International Airport is located at Hansol, 9 km far from the north region of central Ahmedabad city. This airport is being administered by Airports Authority of India and it is the center of Blue Dart Aviation for passengers commuting. It is located at an elevation of 58 meters overhead sea level which suggests that it would not create trouble for other means of communication.
Domain Name: ahmedabadairport.com
9. Pune Airport, Pune:
Pune Airport holds ninth position in this list due to its excellent capacity of handling more number of passengers. This airport not only manages international traffic but even facilitate domestic air traffic. It is located only 10 km north-east of Pune in Maharashtra state, helping easy commuting for passengers.
Domain Name: puneairport.com
10. Goa International Airport, Goa:
Goa International Airport is also recognized as Dabolim Airport or Aeroporto de Dabolim all over the world. Goa is a small state of India but simultaneously, it is one of the most famous travel spots in India. The particular airport is owned by Goa State Government as well as Indian Navy and is being controlled by Airports Authority of India. The total number of domestic passengers was 4.5 Million in this international airport of Goa.
Domain Name: goanairport.com