VCSS15, A member of namepros has confirmed he has sold the domain name Dharmik.in for 10,700 USD with the help of Latonas.com.
Our.in team has reached out to verify this sale and provide additional details if any we can bring for our.in readers. Dharmik.in is developed website. Its the complete website sale with 6 months hosting and domain transfer to seller. VCSS15 is working on developing few other websites with .IN extension and a believer of developing websites. Seller of the domain name Dharmik.in is currently working on developing the websites Nuskhe.in, kahaniya.co.in,BuyJi.in, mr420.in, jadutona.in and kalajadu.co.in.




Our.in would like to congratulate buyer , seller and as well as Latonas.com for completing this sale.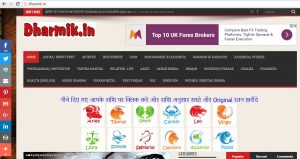 On a different note last week Kim.in sold for 3950 USD at Sedo platform , buyer of the domain name is an end user from Gujarat , India.
More and more .IN sales getting reported time to time, offcourse there are many unreported sales happening too.
If you would like to report your sales , please contact [email protected] . We are here to bring the verified and accurate news for .IN investors.