.IN Whatsapp Group Mod team has announced the .IN domain names to be auctioned today. If you are not a member of auction group and would like to join the auction group, please access the link – Join Auction Group.Please find the list of .INdian premium domain names to be auctioned.
Summary of Names Selected:
1) 4 LLL.in domain names are in auction , LLL.in domain names are one of the most valued asset category of .IN domain names by .IN domain owners / Investors hence its a good opportunity to grab these assets.
2) Two of the names are having a reserve – Clerks.in / RLB.in. Nice Names.
3) 4 twokeyword.in names and a .co.in name




Kindly note .IN auction mod group team also introducing the BIN (Buy It Now) price for few of the domain names starting next week. Interesting news and indeed worth watching how the BIN priced domain names will do at auctions.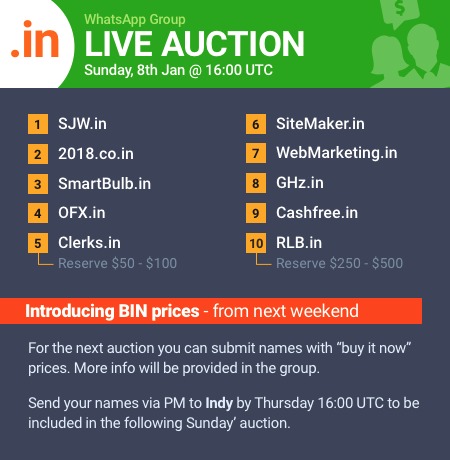 Our.in believe RLB.in will sell as its a fair price. Do you believe in the same? Take a guess and share your opinion using the comments feature.
Legal Disclaimer: Our.in is a .IN / Indian domain names dedicated blog. Our.in is committed to cover all the news and updates related to .IN / Indian domain names.. Our.in has no direct association with the .IN auctions group possibly some of our.in authors may play a role in auctions group in their individual capacities. Our.in is only striving to ensure all the .IN related happenings are brought to the attention of the public space