Indian celebrity Ms.Anushka Sharma has launched NUSH.in  on October 3rd, A total clothing brand.The brand name she has chosen is part of her own name A"nush"ka.
Nush.in domain name created on 21-Apr-2017 and the last updated date is 2-Oct-2017. It's interesting to see the registrant name as Yash Raj Films Pvt Ltd, Yash Raj films is is not owned by Anushka and perhaps Yash Raj Films (One of the largest film production houses of Bollywood) may have some interests in this brand.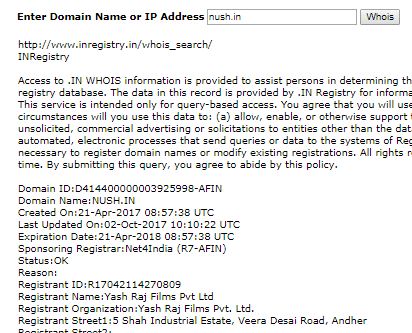 Anushka said: "This is something I've been wanting to do for a very long time. Clothes are actually something that we live in, they are a huge part of our lives. Our style is the way we express ourselves, the way we express our mood. I wanted to create a brand that can add that value to someone's life, be a part of that person's life."
Anushka kept Nush's collection in sync with her own style. While she shops abroad the one thing that irks her is the fact that most clothes there aren't suited for the Indian eye or weather. So while choosing fabrics and the colors, that was the one thing she kept in mind. Calling her style "accessible", she has tried to imitate the same with her clothing line.
she will be only advertising her own products, and NUSH brands are available at Shoppers Stop, Myntra, and Jabong from October 12.
Last and most imporant , Our.in is glad to see a celebrity chosing a .IN name. What other domain name extension can offer better local (indian) brand potential than .IN can offer? 🙂