Complainant – GROUPE GO SPORT

Respondent –  VINIT SAXENA
Disputed Domain – GOSPORT.IN
Decision – GOSPORT.IN is awarded to GROUPE GO SPORT

Case Summary:
Complainant
In the given dispute the complainant was incorporated as GROUPE GO SPORT. The complainant is a French Company founded in the year 1979 and specialized in the distribution of sporting goods under name and style of GO SPORT.GO SPORT recorded a revenue of 1 billion and is growing 5% on an annual basis. The Complainant owns domain names like go-sport.com,go-sport.net,go-sport.in and go-sport.org.
The complainant claims to be the owner of numerous trademarks GO SPORT® such as: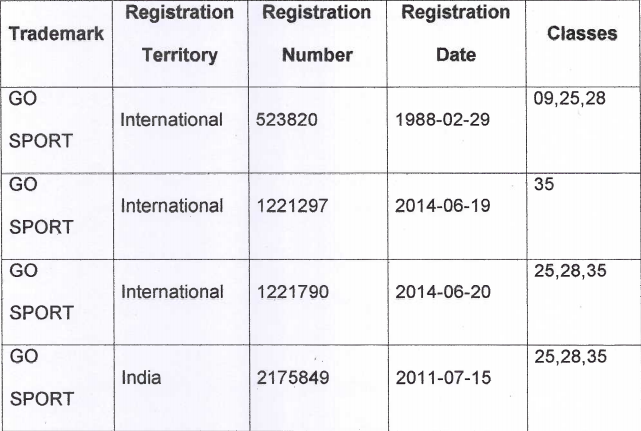 The disputed domain name was registered on February 2nd, 2011 by the respondent whereas the domain name go-sport.com, registered since September 28th, 1997 by the complainant.
The complainant filed a petition that the disputed domain name GOSPORT.IN is clearly identical/ confusingly similar to the complainant's trademark. Meanwhile, the complainant alleges that the respondent making money on the disputed domain name by parking page with pay-per-click links.
Respondent
The respondent responds to the tribunal mails and filed his petition. He mentioned that he was unable to develop the website because of no time. The tribunal announced the judgment with the statements filed by both the complainant and respondent.
In order to win the domain from the respondent in an INDRP dispute, The complainant must prove all three following grounds :
1)Registrant's domain name is identical or confusingly similar to a name, trademark or service mark in which Complainant has rights.
Complainant has proved the disputed domain name 'GOSPORT.IN' is confusingly similar to the trademark of the complainant.
2)The registrant has no rights or legitimate interests in respect of domain name.
As per the evidence established by Complainant,  the complainant owns multiple domain names comprising the trademark GO SPORT which would create confusion, anyway the use of trademark " GO SPORT " by the respondent is not legal as he has not obtained any permission from the trademark holder. Therefore the Respondent has no legitimate right over the said domain name.
3)Registrant's domain has been registered or being used in bad faith.
Finally, the Tribunal finds the disputed domain name has been registered and used in bad faith.
Decision:
Honourable Arbitrator V. SHRIVASTAV taken the decision as the "complainant has succeeded in its complaint".
Please read the further details about the dispute" @Gosport.in
Access additional articles on INDRP @ INDRP Knowledge Base
Disclaimer: The opinions expressed within this article are the personal opinions of the author. The facts and opinions appearing in the article do not necessarily reflect the views of Our.in and Our.in does not assume any responsibility or liability for the same.