Its Universal truth, several companies are spending loads of money to acquire new customers and Reliance Jio as a company is spending billions of dollars to gain new subscribers. At the same time of Reliance Jio commercial launch, Mr. Mukesh Ambani announced that the company was targeted to get 100 million subscribers by the end of 2016. One hand Reliance Jio is dreaming or too positive about the target and already revised to acquire 250 million subscribers (source: several media reports) by end of year 2016 and the other hand Jio web / digital marketing team seems to be ignoring a nice opportunity they already has controls on.
Jio.in domain name is receiving huge traffic and at the same time the website is not getting resolved. Anyone with little commonsense can notice such a high traffic and will make sure the same domain name used to generate new business opportunities for the company. Using JIO.in really establish Reliance JIO as a true Indian brand and can win more trust from its customers. If Reliance prefer to use .com over .IN to support their global branding ambitions, thats fine. They could have at-least forwarded the Jio.in to Jio.com to get the benefit of the huge traffic coming on .IN name. By not doing that a big company like Reliance Jio has proven to the world their digital marketing team is ineffective and wasting a great opportunity they have in hand.




1) Reliance Jio has purchased Jio.in in 2012 for a premium price from the previous owner of the Jio.in name and then letting that name not resolved.
Created On:07-Sep-2011 20:00:42 UTC
Last Updated On:27-Jan-2016 12:47:09 UTC
Expiration Date:07-Sep-2017 20:00:42 UTC
Sponsoring Registrar:Net4India (R7-AFIN)
Status:CLIENT TRANSFER PROHIBITED
Reason:
Registrant ID:N8R442120
Registrant Name:Reliancedomains Admin
Registrant Organization:Reliance Industries Limited
Registrant Street1:3rd Floor, Maker Chamber IV, 222, Nariman Point
Registrant Street2:
Registrant Street3:
Registrant City:Mumbai
Registrant State/Province:MH
Registrant Postal Code:400021
Registrant Country:IN
Registrant Phone:+91.2222785251
Registrant Phone Ext.:
Registrant FAX:+91.2222042268
Registrant FAX Ext.:
Registrant Email:[email protected]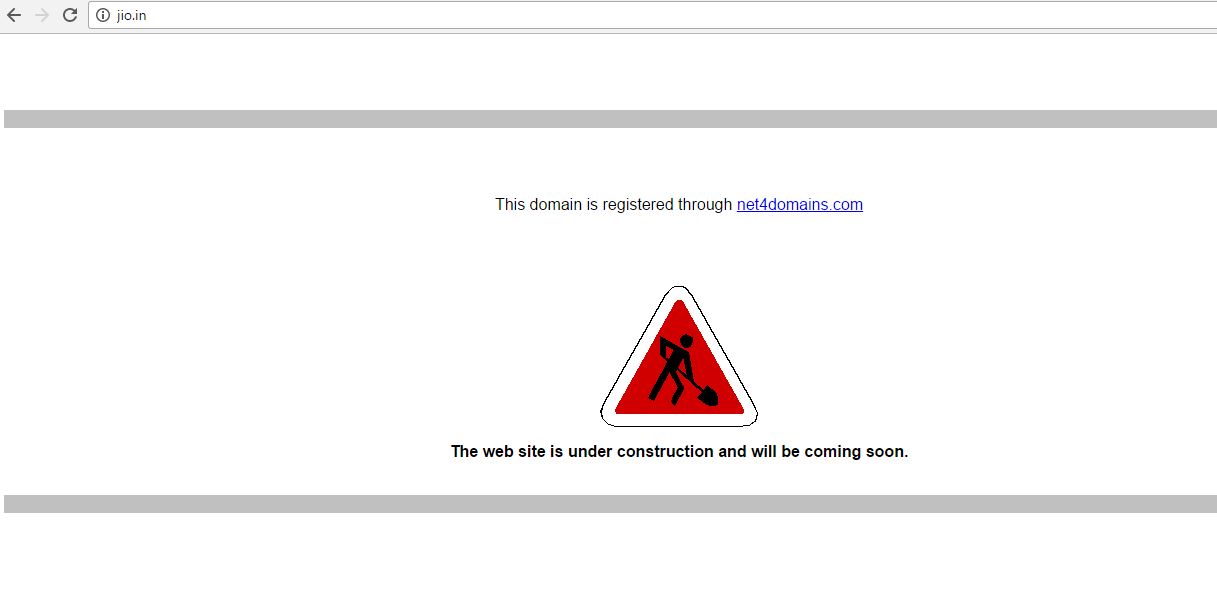 2) Jio.in has Alexa.com India rank 5,243 and a global rank of 75,860