Recently LuxuryProperty.in domain name has been sold for $2,080 USD at Uniregistry. Is this what the special? I am coming to that matter only. Once we look back to the history of LuxuryProperty.in.This domain was registered in 2014 with $3 USD cost.and then renewed for 2 years with $6 for each year.Total investment on this domain was $15 USD ($3+$6+$6=$15).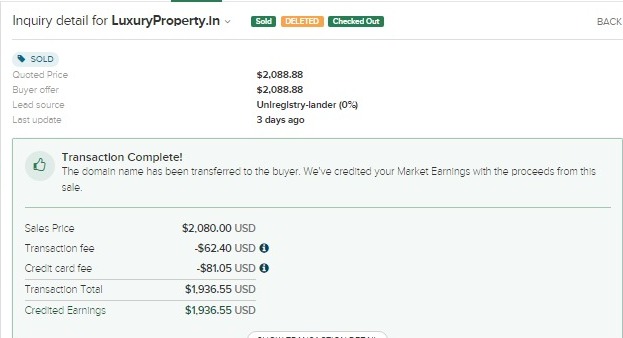 Now it has been sold for $2,080, deducting Uniregistry fees seller got 1,936 USD.That means a profit of 1921 USD. For sure decent ROI and profit.
There is a massive opportunity in investing into generic quality .IN domain names , .IN Domain name extension relatively one of the youngests and most promising domain name extension. I am confident several such sales are going to be reported in future.Investing into generic quality domain names is better than investing into gold and stocks.
please join us congratulating both the buyer and seller.