A new INDRP dispute has been logged on 9th of Aug 2017 in relation to the domain name potterybarnkids.in  ownership.
Very likely the complainant should be Potterybarn(Its an Ecommerce Website).Here we have a very intersting news last week I have published markandgraham.in  looking like both of these disputes complainant is same entity.
Bit of research on google has made me found some interesting connections, complainant entity started with williamssonoma.com,but now it owns projects such as Potterybarn,potterybarnkids,pbteen,west elm,Rejuvenation,Mark and graham.
Potential complainant owns names such as williamssonoma.com,williams-sonoma.com,williamssonoma.in,williamssonoma.co.in,
willamsonoma.net,potterybarn.com,potterybarn.in,potterybarnbaby.com,potterybornkids.com,potterybarnteen.com,potterybarndorm.com,potterybarnteen.in,pbteen.com,westelm.com,rejuvenation.com,markandgraham.com,markandgraham.co.in….etc
Respondent:
Respondent of the domain name is a resident of HongKong,At moment the domain name is showing like DNS address could not be found.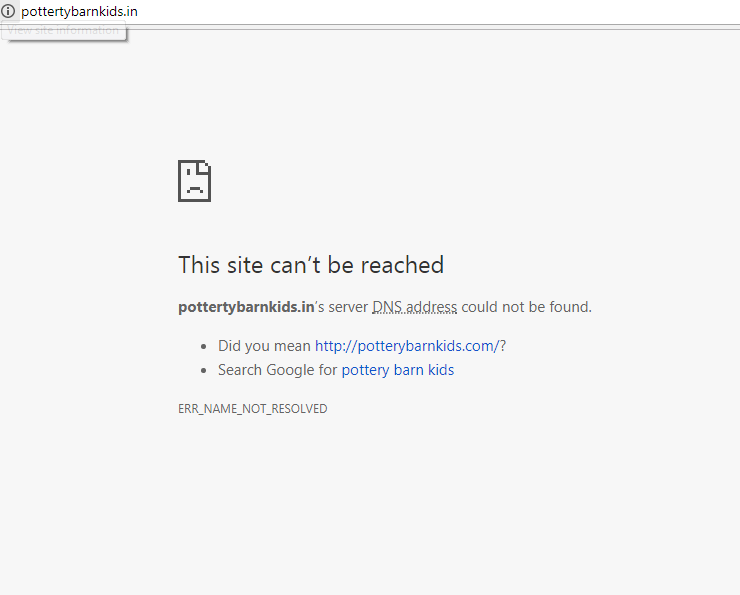 Arbitrator:
Mr. Dipak G Parmar is acting as the honoroable INDRP  Arbitrator on this dispute.
Expected Decision:
Our guess is its straight forward dispute and the complainant likely to win assuming the complainant is PotteryBarn.
To Know Markandgraham.in Dispute..CLICKHERE
PLEASE AVOID OBVIOUS TRADEMARK REGISTRATIONS, OBVIOUS TRADEMARK REGISTRATIONS ARE INJURIOUS TO .IN EXTENSION REPUTATION AND AS WELL AS REGISTRANT HEALTH.