10 Unique domain names were on offer including some nice keyword.in and lll.in domain names.  9 domain names together has raised an amount of 852 USD, an average sale price of 94.7 USD per domain name and one of the LLL.in domain name EUA.in has not met the reserve hence its not sold. Below are the results of the same.




Few Highlights:
LLL.in domain names has performed as expected in this auction, they are fetched fair market prices. LLL.in are proving to be quite stable liquid assets of .IN Domain extension.
 Few of the TwoKeyword.in domain names are under performed compare to their potential, overall its a buyers chance to acquire some nice names too.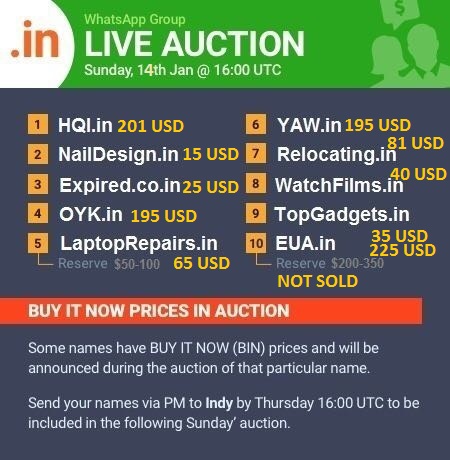 Legal Disclaimer: Our.in is a .IN / Indian domain names dedicated blog. Our.in is committed to cover all the news and updates related to .IN / Indian domain names.. Our.in has no direct association with the .IN auctions group possibly some of our.in authors may play a role in auctions group in their individual capacities. Our.in is only striving to ensure all the .IN related happenings are brought to the attention of the public space