A new INDRP dispute has been logged on 25th of Aug 2017 in relation to the domain name FDC.IN  ownership. This domain name in dispute has registered on 16th Feb 2005.
Complainant Guess:
Very likely the complainant should be "FDCINDIA.COM ".FDC is a people-oriented organization, dedicated to innovate, manufacture and market high-quality healthcare products that enhance the quality of human life all over the globe.
Respondent:
Respondent of the domain name is a resident of Berlin, At the moment the domain name is for sale at Undeveloped.com.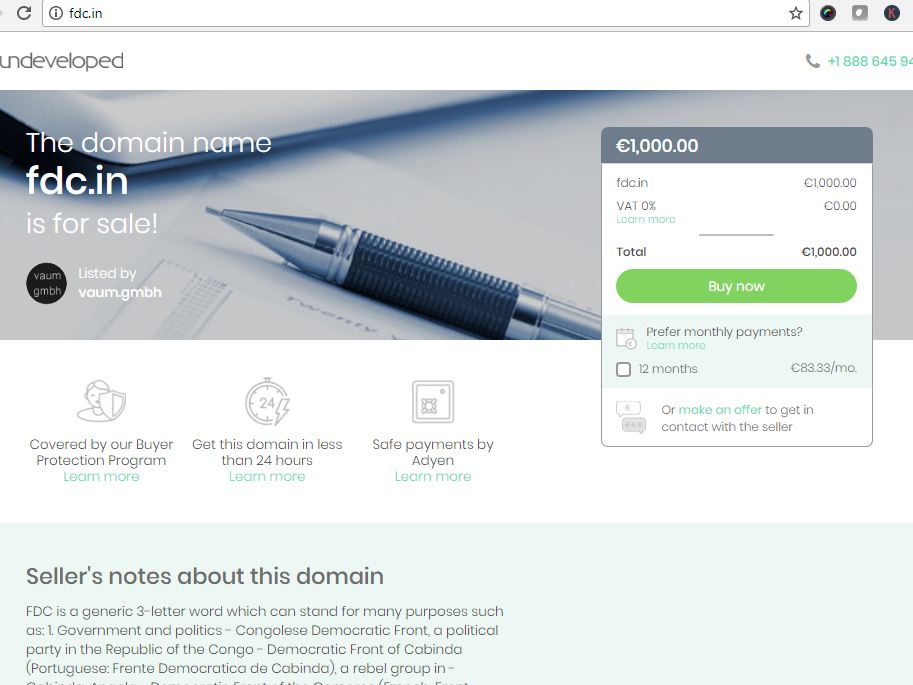 Honorable INDRP Arbitrator:
Mr. Harshavardhan Sancheti is appointed as the INDRP arbitrator on this dispute.
Expected Decision:
It is bit hard to guess the decision, however looking at the INDRP dispute decisions precedents it will likely to favour the complianant. Lets hope the INDRP arbitrator set some new precedent ruling in favour of respondent :). Having just a trademark in specific class alone will not grant the outright rights on the acronym like "FDC". Complianant to prove that the respondent has targeted his TM some form or shape, however looking at the available details it's not sounding so. We clearly oppose the so called TM owners misusing the INDRP route to grab the acronym names like FDC or a generic name like Pen or Book specially almost 11+ years after the domain is registered.
PLEASE AVOID OBVIOUS TRADEMARK REGISTRATIONS, OBVIOUS TRADEMARK REGISTRATIONS ARE INJURIOUS TO.IN EXTENSION REPUTATION AND AS WELL AS REGISTRANT HEALTH.