48 newly funded Indian startups started in February month. More than 75% of these startup companies launched with a .COM address and 11% startup companies launched with a .IN address.
Remaining startups launched with different address like .IO .org .CO  .work address.
Trak.in is closely tracking the Indian startups funding data on monthly basis, our.in has considered the same data to generate the domain name extension analysis to find out the current trends of domain name usage by startups.
Kindly note, only startups raised seed funding in the month of February 2017 are considered for this domain name usage analysis. Please find out the further details below.
| | | | | | | |
| --- | --- | --- | --- | --- | --- | --- |
| S.no: | Startup  Name: | Industry/ Vertical: | City/ Location: | Amount    (in USD): | Domain Name: | Extension: |
| 1 | Clodura | Technology | Pune | N/A | clodura.com | .COM |
| 2 | Stockroom.io | Consumer Internet | Hyderabad | N/A | stockroom.io | .IO |
| 3 | Capital Float | Consumer Internet | Banglore | 2,500,000 | capitalfloat.com | .COM |
| 4 | iManageMyHotel | Technology | Kolkata | N/A | imanagemyhotel.com | .COM |
| 5 | Inner Hour | Consumer Internet | Mumbai | 450,000 | theinnerhour.com | .COM |
| 6 | Travel Triangle | Consumer Internet | Noida | 10,000,000 | traveltriangle.com | .COM |
| 7 | Wandertrails | Consumer Internet | Banglore | 1,000,000 | wandertrails.com | .COM |
| 8 | Zenatix | Technology | Gurgaon | 1,200,000 | zenatix.com | .COM |
| 9 | Cartrade | Consumer Internet | Mumbai | 55,000,000 | cartrade.com | .COM |
| 10 | MindYourFleet | Technology | Noida | N/A | mindyourfleet.com | .COM |
| 11 | Edurev | Consumer Internet | Gurgaon | 40,000 | edurev.in | .IN |
| 12 | Voonik | ECommerce | Banglore | 6,000,000 | voonik.com | .COM |
| 13 | 1Crowd | Finance | Mumbai | N/A | 1crowd.co | .CO |
| 14 | Wooplr | ECommerce | Banglore | 8,000,000 | wooplr.com | .COM |
| 15 | 48East | ECommerce | Banglore | 500,000 | fortyeighteast.com | .COM |
| 16 | Redesyn | Consumer Internet | Mumbai | N/A | redesyn.com | .COM |
| 17 | Sigtuple | Technology | Banglore | 5,800,000 | sigtuple.com | .COM |
| 18 | Flutura | Technology | Banglore | 7,500,000 | flutura.com | .COM |
| 19 | Wassup | Consumer Internet | Chennai | 3,200,000 | wassupondemand.com | .COM |
| 20 | Better Mortgage | Consumer Internet | Gurgaon | 15,000,000 | better.com | .COM |
| 21 | Nurturey | Consumer Internet | NewDelhi | 330,000 | nurturey.com | .COM |
| 22 | Fyle | Technology | Banglore | 400,000 | fyle.in | .IN |
| 23 | GoBumpr | Consumer Internet | Chennai | 300,000 | gobumpr.com | .COM |
| 24 | CCAvenue | Consumer Internet | Mumbai | 22,400,000 | ccavenue.com | .COM |
| 25 | Connaizen | Technology | NewDelhi | N/A | connaizen.com | .COM |
| 26 | Innov8 | Consumer Internet | NewDelhi | N/A | innov8.work | .WORK |
| 27 | ZestMoney | Consumer Internet | Banglore | 6,500,000 | zestmoney.in | .IN |
| 28 | AirZaar | Technology | Missourie | 350,000 | airzaar.com | .COM |
| 29 | Truebil | Consumer Internet | Mumbai | 3,000,000 | truebil.com | .COM |
| 30 | YourStory | Consumer Internet | Banglore | 3,000,000 | yourstory.com | .COM |
| 31 | Imaginate | Technology | Hyderabad | 500,000 | imaginate.in | .IN |
| 32 | The Ken | Consumer Internet | Banglore | 400,000 | the-ken.com | .COM |
| 33 | Urban Ladder | ECommerce | Banglore | 15,200,000 | urbanladder.com | .COM |
| 34 | Aisle | Consumer Internet | Banglore | N/A | aisle.co | .CO |
| 35 | TownScript | Consumer Internet | Pune | N/A | townscript.com | .COM |
| 36 | Leopetra | ECommerce | Mumbai | 40,000 | leopetra.com | .COM |
| 37 | Blood n Care | Consumer Internet | Gurgaon | 40,000 | bloodncare.org |  .org |
| 38 | Flipkart | ECommerce | Banglore | 38,700,000 | flipkart.com | .COM |
| 39 | True Balance | Consumer Internet | Gurgaon | 15,000,000 | truebalance.io | .IO |
| 40 | Vebbler | Consumer Internet | Banglore | 40,000 | vebbler.com | .COM |
| 41 | Get My Parking | Consumer Internet | NewDelhi | 1,100,000 | getmyparking.com | .COM |
| 42 | Lets Reap | Consumer Internet | Mumbai | N/A | letsreap.com | .COM |
| 43 | Oglas | Consumer Internet | Noida | N/A | oglas.in | .IN |
| 44 | Staydobe | Consumer Internet | Banglore | N/A | stayabode.com | .COM |
| 45 | Biryani By Kilo | Consumer Internet | Gurgaon | 3,75,000 | biryanibykilo.com | .COM |
| 46 | Johari Shop | ECommerce | Banglore | 94,000 | joharishop.com | .COM |
| 47 | NeoStencil | Consumer Internet | NewDelhi | 1,000,000 | neostencil.com | .COM |
| 48 | Blackbuck | Logistics | Banglore | 30,000,000 | blackbuck.com | .COM |
Number of Tech Startups by Location: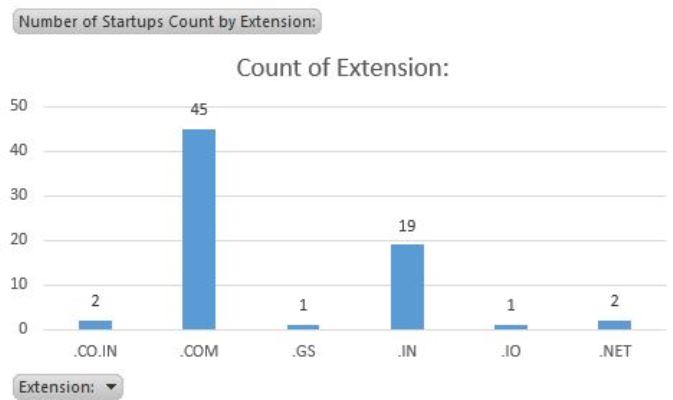 Tech Startups by Domain Extension Percentage:
Indian ccTld based startups fund raised in December 2016
January 2017: Indian Startups – Domain Names Usage Analysis