GoDaddy, a most popular American publicly traded internet domain registrar and web hosting company became an official partner for ICC World Cup which is going to held from 20 to July 14, 2019, in England and Wales.
ICC Cricket World Cup is the international championship for one day which is organized by the sport's governing body. It happens every four years with the preliminary rounds qualification rounds to final tournaments. It is the most viewed sports event.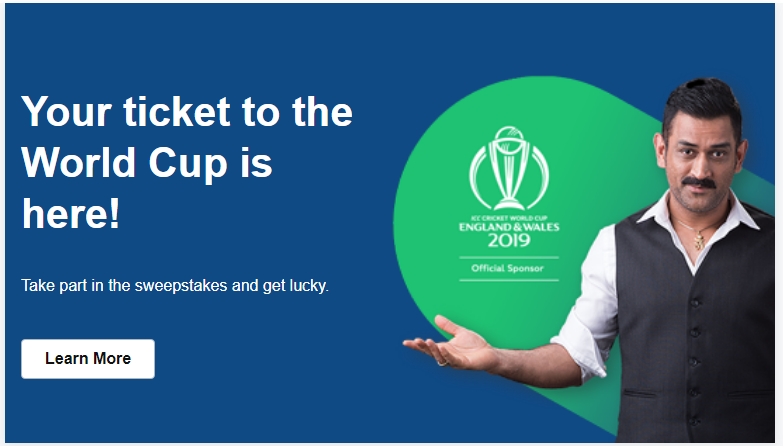 ICC World Cup
As cricket in India is the most favorite sport and is watched in each and every home. It got the platform to reach the millions of audiences including in the Tier II & III markets which help the entrepreneurs and small business owners too, to share the ideas online. It can educate people about the benefits of digital adoption.
The partnership between ICC World Cup and GoDaddy
The partnership between ICC World Cup and GoDaddy will see the company will encourage the entrepreneurs to become an official sponsor for the ICC Men's Cricket World Cup 2019.
GoDaddy will be a great global platform to share the benefits of the small business owners and entrepreneurs to make recognition online of their ventures to grow.
ICC Men's Cricket World Cup global platform will be GoDaddy to create awareness among cricket enthusiasts and tournament viewers.
The estimated GoDaddy's sponsorship deal size to be $2-3 million.
"ICC World Cup provides a unique opportunity because two-thirds of the world's population, including India, will watch the event. We are focused on growing in tier II and III towns, where the next wave of 200 million internet users will come. We want to use the ICC World Cup to both engage with customers and promote the benefits of coming online," said Nikhil Arora, managing director, and vice-president, GoDaddy India.
The cricket tournament is such a platform which gathers the players, fans, and communities. It is the global initiative to bring people together across the globe. So that's why it will be a great platform to share awareness and knowledge about the ease and affordability of GoDaddy's online product and service offerings.
Score a .in domain during the World Cup
GoDaddy is providing a special offer for, especially .in domain names, during world cup you can get .in name as low as ₹ 149.00/1st yr and When you register for 2 years or more. Additional years ₹ 599.00

GoDaddy is associated with sports personalities and sporting events around the world. It is associated with India in various forms such as it sponsored three-match home T20 series vs Sri Lanka in Dec 2017 and five-Test home series vs England in November-December 2016.


The ICC holds some other partners along with GoDaddy such as carmaker Nissan Motor Co. Ltd, Coca-Cola smartphone maker Oppo Co. Ltd, MRF Tyres Ltd and Emirates Airlines, paying about $6-8 million a year.
Last November, B9 Beverages Pvt. Ltd signed a 5-year global partnership with ICC for an estimated $5-6 million per year.