In August month Newly funded Indian startups were 25, around 72% of these Indian startups launched with a .COM address,16% startup companies launched with .IN address,4% startup companies launched with address .io and 8% startup companies launched with .net and .co.in address.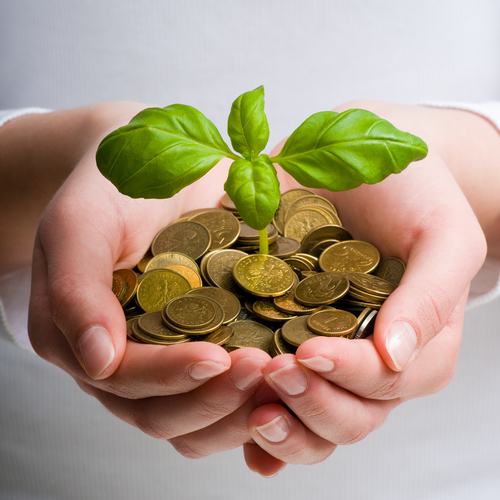 Trak.in is closely tracking the Indian startups funding data on monthly basis, our.in has considered the same data to generate the domain name extension analysis to find-out the current trends of domain name usage by startups. Clearly .COM is a leader as expected , .IN closely following .COM in terms of numbers.
Comparing all Truxapp.com  is in top place for funding amount compared to all.
S.NO
STARTUP NAME
INDUSTRY/

VERTICAL

CITY/

LOCATION

AMOUNT

(in USD)

DOMAIN NAME
EXTENSION
1
leverageedu
Consumer Internet
New Delhi
N/A
leverageedu.com
.com
2
zepo
Consumer Internet
Mumbai
500,000
zepo.in
.in
3
click2clinic
Consumer Internet
Hyderabad
850,000
click2clinic.com
.com
4
speedbox
Logistics
Mumbai
300,000
speedboxapp.com
.com
5
skillconnect
Consumer Internet
JaiPur
N/A
skillconnect.in
.in
6
coutloot
Ecommerce
Mumbai
N/A
coutloot.com
.com
7
BoxMySpace
Logistics
Mumbai
N/A
boxmyspace.com
.com
8
Newcastle Technologies
Technology
Chennai
243,000
newcastle technologies.com
.com
9
myforexeye
Consumer Internet
New Delhi
220,000
myforexeye.com
.com
10
Truxapp
Logistics
New Delhi
3,100,000
truxapp.com
.com
11
Crofarm
Technology
Gurgaon
783,000
Crofarm.com
.com
12
Doodhwala
Consumer Internet
Banglore
N/A
doodhwala.net
.net
13
Digilend
Technology
Mumbai
312,000
digilend.in
.in
14
KNAB Finance
Consumer Internet
Banglore
385,000
knabfinace.com
.com
15
Simpl Technologies
Consumer Internet
Mumbai
N/A
getsimpl.com
.com
16
rootefy
Ecommerce
New Delhi
187,000
rootefy.com
.com
17
Cerebroz
Consumer Internet
Vadodara
734,000
cerebroz.com
.com
18
Flochat
Consumer Internet
Mumbai
N/A
flochat.in
.in
19
EasyGov
Consumer Internet
Noida
N/A
easygov.co.in
.co.in
20
Milkbasket
Consumer Internet
Gurgaon
N/A
milkbasket.com
.com
21
Awign
Technology
Banglore
N/A
awign.com
.com
22
Indiez
Technology
Banglore
500,000
indiez.io
.io
23
InkMonk
Consumer Internet
Chennai
750,000
inkmonk.com
.com
24
Medinfi
Consumer Internet
Banglore
125,000
medinfi.com
.com
25
Doxper
Technology
Mumbai
750,000
doxper.com
.com
Tech Startups By Industry: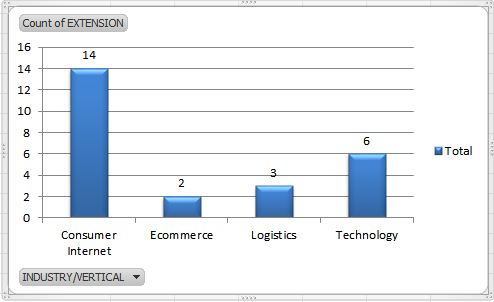 Tech Startups By Extension Percentage: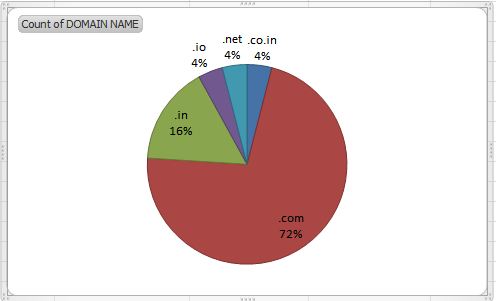 For the previous month articles kindly refer the below links:
May 2017:Indian Startups-Domain Names Usage Analysis
April 2017: Indian Startups – Domain Names Usage Analysis
March 2017: Indian Startups – Domain Names Usage Analysis
February 2017: Indian Startups – Domain Names Usage Analysis
January 2017: Indian Startups – Domain Names Usage Analysis
240 Startups on Indian ccTLD fundraised in 2016
Source: Trak.in Start-ups funding data.